People & Projects of the Highest Quality
Since 1984, the professional staff at Bryant has been building a successful record of completing complex bridge and heavy highway construction projects amid the most challenging conditions over land and water. Located near historic Williamsburg, Virginia the company specializes in the construction of numerous types of bridges. Timber, cast-in-place concrete, pre-cast concrete, steel truss, and steel beam bridges are some of the more common styles of completed structures.
The firm self-performs all phase of heavy construction including demolition, pile driving, sheeting and shoring, steel and pre-cast concrete erection, and concrete construction.
Our successful reputation is rooted in the quality of our work and the quality of our employees. We believe that a proactive, partnering atmosphere is essential to the project's success. We attribute a long history of completing projects on or ahead of schedule to this spirit of cooperation.




Military Friendly Employer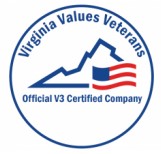 We believe our future is in the hands of our people. We are looking for highly motivated and dedicated professionals who share our vision. If you have these qualities, we would like the opportunity to talk to you.